ACTIVITIES
The location of the "Guesthouse" is suitable for explorations as many signaled passages for mountain cycling, hiking, rappel, begin here. At 8 kilometres, there is the climbing park of Taygetos for those initiated in climbing.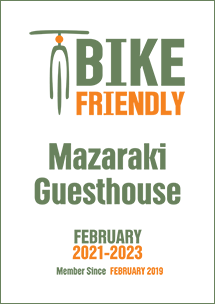 The employers of "Mazaraki's Guesthouse" are always willing to organize sorties to nature with the help of experienced guides, or just providing the guests with bicycles and the necessary advice.
The castle of Mystras, the Olive Museum, the Koumantario's Art Gallery, the ancient Sparta, the Archeological museum of Sparta are some of the places that are worth visiting.
Unique tours and walks through the scenic villages of Taygetos as well as tours to Mani (Gytheio 45 km, Limeni, The Caves of Diros e.t.c. ) offer you a unique holiday experience with an appealing blend of picturesque countryside.